We at Nepal Handicraft Product Exporter P. Ltd are the leading manufacturer, wholesaler, and exporter of the best handicraft products from Nepal. We are one of the best names in the handicraft manufacturing companies in Nepal, providing you with the best handicraft products, including Garment Products, Felt Products, Hemp Products, Pashmina, and many more handicraft products. With the increasing demand for Nepal's Handicraft Products worldwide, we are constantly at your service to bring forth the finest handmade products.
Nepal Handicraft Product Exporter P. Ltd has plenty of experience collecting the finest raw materials, processing, and giving the best products results. Having been in the handicraft industry for more than a decade, the quality and durability of the products are the finest. The magnificent talent of gifted artisans from remote parts of Nepal has got proper value and recognition.
What do we believe in?
We at Nepal Handicraft Exporter P. Ltd believe in the art of serving the customers with the finest quality products. Our mission is to encourage the skills and lifestyles of all the incredible artisans and show their talent worldwide giving proper value to their sweat and talent is our ultimate goal. While giving employment to economically weaker groups and women, child labor is prohibited. To bring forward a revolution through handicrafts is our ultimate goal.
The products we offer
Considering the demand for magnificent Nepal Handicraft Products worldwide, we have come up with various aesthetic products. We cover fashion, culture, and religiously important products, from felt to statues and incense products. The products we provide are of the finest quality coming out of the best raw materials. Some of the trending products we offer to customers worldwide are:
Nepal Felt Product
Nepal Hemp Product
Nepal Pashmina Product
Nepal Woolen Product
Singing Bowls Product
Nepal Thangka Product
Nepal Glass Smoking Pipes
Nepal statues Product
Nepal Wooden handicraft
Nepal Incense Product
Nepal Jewelry Product
Nepal Garment Product
Meet the Team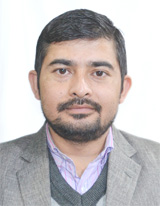 Mr. Hari Khadka is the Managing Director of Welcome Nepal Treks and the cofounder of Nepal Handicraft Product Exporter P. Ltd. One of the flagbearers of promoting Nepal tourism and showcasing the country's incredible vistas, Mr. Hari has made sure the crafts blend with nature so well and give a whole new impression about the gorgeousness this country has in its stores.
Mr. Dipendra Magar is the cofounder of Nepal Handicraft Product Exporter P. Ltd. A well-experienced wholesaler and exporter of Nepal Handicraft Products, he has spent quite a time at his old venture Unique Handicraft Exporters. All his experience and knowledge about the collection, manufacturing, and exporting of handicraft products makes him a force to be reckoned with.
Teamwork makes dreams work. Just like that, to get any business to a level unmatchable, you need to be different from the rest and do your best. Nepal Handicraft Exporter P. Ltd has been a joint venture of two people in the tourism and handicrafts industry for a long time. And it is destined to make a great impact in the handicraft business and tourism industry.
Why choose Nepal Handicraft Product Exporter?
Nepal Handicraft Exporter P. Ltd provides the best quality handicraft products in the finest form. Nothing beats the quality and the genuineness of the incredible products we offer. Besides our production of handicraft items, we collect the products from the finest wholesalers and manufacturers. The foremost thing we aspire to achieve is customer satisfaction and the quality of products and services.
Assuring every product is quality guaranteed, we welcome you to the hub of Nepal Handicraft Products, where you get a variety of products to choose from. Be it a pashmina shawl or a buddha painting, we always ensure our products complete your checklist of qualities. Give us a chance to serve you, and we will never disappoint.
Legal Documents of Nepal Handicraft Product Exporter P. Ltd.